Risky business: can the ECB juggle political and financial stability?
22 February 2022

Can the UK economy withstand higher rates?
8 March 2022
INSIGHTS • 1 March 2022
The Ukraine crisis: a new black swan joins the flock

Phillip Pearce, Associate, Global Capital Markets
As the Russian invasion of Ukraine unfolds, many are speculating about how it will impact the world economy. With every headline the stakes keep rising and the potential for further black swan events increases. The financial sanctions and policy response so far have been extraordinary, whether Germany's decision to reverse its historic policy of never sending weapons to a conflict zone, the West banning Russian banks from SWIFT or the ban of most transactions with the Russian Central bank. We are witnessing a seismic shift in the world as we know it.
Many of these sanctions are designed to cripple the Russian economy in the hope that it will spur protest and force a change in the Kremlin's approach. The Russian ruble at its worst lost over 30% of its value in one day and the Moscow stock exchange failed to open on Monday. These sanctions will certainly damage the Russian economy, but Russia is not isolated. We live in a connected global economy which means that these sanctions will fundamentally impact the West as well, at a time when central banks are grappling with elevated levels of inflation and on the precipice of an aggressive hiking cycle.
Over the course of the last year, inflation has continued to rise as energy commodity prices surged due to supply chain issues caused by the pandemic. Russia produces 10% of global oil and supplies 40% of Europe's gas, it is also the world's largest producer of grains and fertilizer – key inputs in day-to-day items from fuel to food. It's clear that inflationary pressures aren't going anywhere and that they could remain elevated for the foreseeable future. Couple this with the possibility of a slowing global economy as sanctions impact global production and the urgent need for dollar liquidity in the short-term, central banks are caught in an exceptionally delicate situation. As of Monday, market expectations of the hiking cycle for the US Fed and BoE have eased with markets expecting one to two fewer hikes now than two weeks ago, but expectations for the ECB have changed drastically with four fewer hikes expected.
Chart 1: Expected number of hikes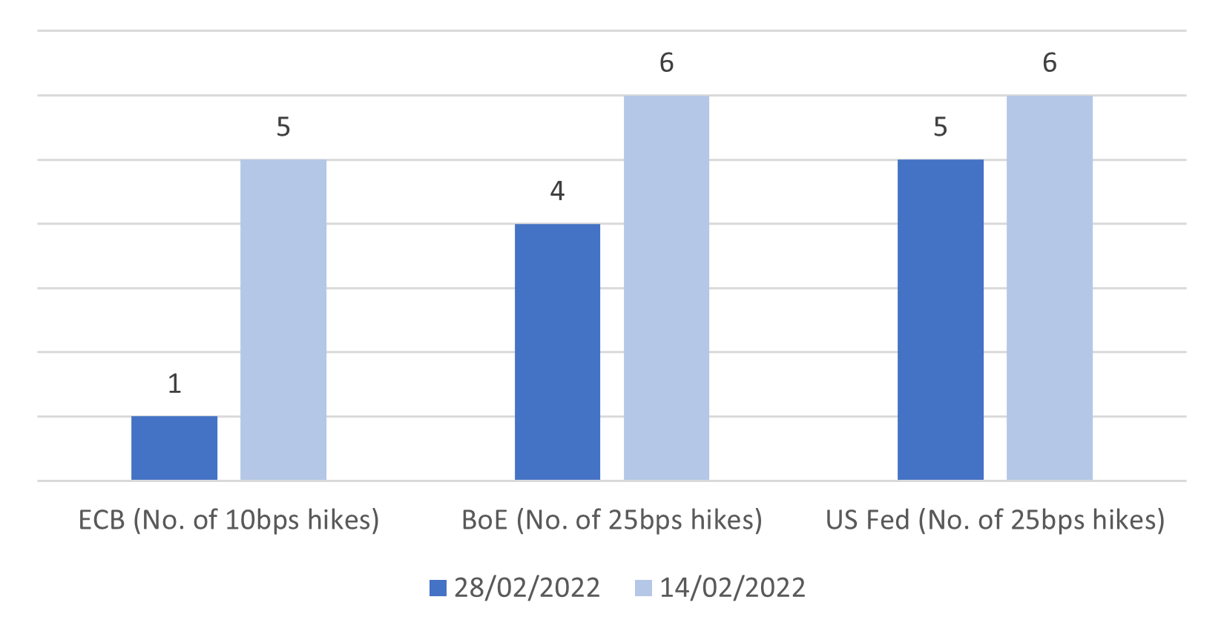 Chart 2: Expected Policy Rate by year-end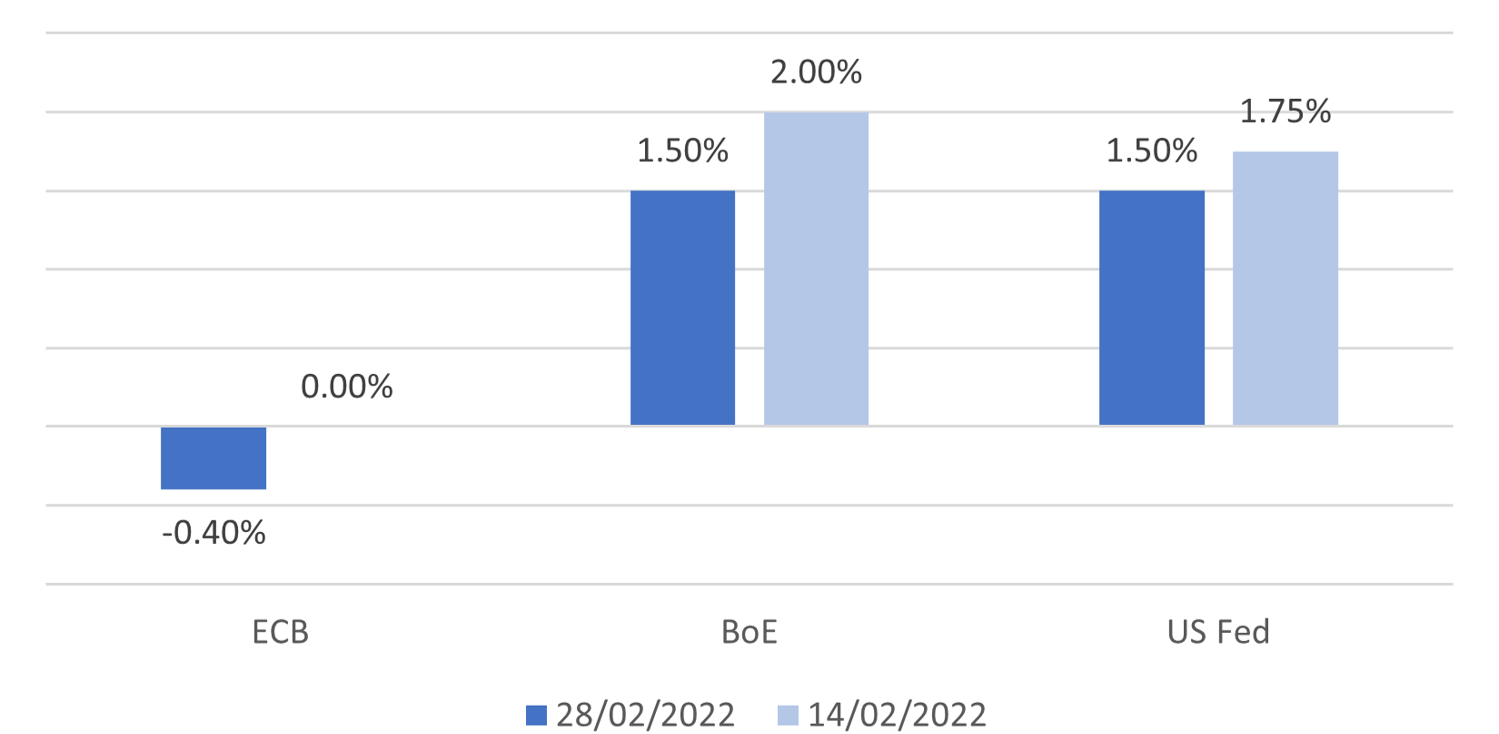 Further stresses from the sanctions are evident in money markets and the short end of the interest rate curve, as the need for dollar funding to cover asset liquidations and possible defaults, and payments spike to levels last seen in March 2020. The urgent demand for dollars can be seen in the cross-currency basis market where spreads have widened between euro and dollars as well as sterling and dollars. This impacts the cost of hedging which has increased significantly for those looking to swap EUR or GBP into USD today and buy it back in the future.
Chart 3: EURUSD & GBPUSD Hedging Costs
In our piece "Navigating the risk in the age of uncertainty: possible scenarios and implications" we highlighted the Ukrainian/Russia conflict as a source of a black swan event– a flight to quality. As we've seen over the last week there certainly has been a flight to quality and an increase in volatility, which we believe will remain as there has been a fundamental shift in how the world interacts. Central banks now have a tougher, more complex world to navigate, and the outcomes are more difficult to forecast. As the headlines continue to roll in and a new "cold war" era emerges, risk management is going to be vital to navigating the rough seas ahead to ensure increasingly frequent outlier events don't sink our proverbial ships.
Be the first to know
Subscribe to our newsletter to receive exclusive Validus Insights and industry updates.