The (inflation) shock is over, back to normal?
5 July 2022

Six things we learnt at the Private Capital Symposium 2022
14 July 2022
INSIGHT • 12 JULY 2022
Tax cuts, spending and regime change: key risks in the Tory leadership race

Marc Cogliatti, Principal, Global Capital Markets
A little over four weeks on from surviving a vote of no confidence, Boris Johnson took to the lectern outside Number 10 on Thursday and pledged to stand down as Prime Minister once a replacement has been found. At the time of writing, eleven candidates have put their name forward for the top job and there's every chance others could be added before a final list of nominations is set out later today.
MPs will then conduct the first round of voting on Wednesday with a second round taking place on Thursday. According to Sir Graham Brady, there will then be successive ballots until the final two candidates are reached, hopefully by Monday next week.
Candidates will need a minimum of 20 supporters to get their name on the initial ballot sheet and then 30 to make the second round. Once the final two have been decided upon, it will be down to the Conservative party members to decide who becomes the next PM. Last time around, Boris Johnson defeated Jeremy Hunt, the time before that Andrea Leadsom dropped out leaving Theresa May to take the reigns far more quickly than initially expected. Either way, we should know who the next leader of the Conservative Party (and therefore the next PM) is by 5th September (allowing for 6 weeks of campaigning).
Of the eleven candidates who have already come forward, former Chancellor, Rishi Sunak currently has the most declared supporters amongst MPs, followed by trade minister Penny Mordaunt and back bench MP Tom Tugendhat. The bookies have Sunak and Mordaunt as joint favourite* (both with a ~30% chance of getting the job), followed by Liz Truss (13% probability) and Tom Tugendhat (10%).
Convention says that during times of uncertainty (political or economic) a country's currency often performs badly as investors lose confidence and seek havens elsewhere to park their cash. However, over the past week, sterling is up against the euro and whilst it has admittedly lost ground against the dollar, so has every G10 currency and thus there may well be other factors at play [more about that later].
There are a couple of points worth considering:
Most candidates have pledged to cut taxes (either corporate tax, personal tax or both) which could encourage businesses to generate more profit while also encouraging the repatriation of overseas gains.
Secondly, a new PM would almost certainly boost the chances of an increase in fiscal spending (or at the very least a change in the current approach) which should in turn boost growth.
Boris Johnson has been operating under a dark cloud for quite some time and many have been expecting the end of his tenure (whichever way it was to come). To some extent, his resignation and the appointment of a new leader will allow the party to move forward and focus on navigating the country through these difficult times.
So, it doesn't all have to be bad. One note of caution though… while a new leader restoking the fire that fuels the economic growth engine would be very welcome, there is a clear risk that it could also add to inflationary pressures that are causing so much pain to the man on the street. Either way, whoever gets the job is going to face the same difficulties as their predecessor.
A word on the currency:
I noted four weeks ago that whilst UK politics were grabbing the headlines, political uncertainty wasn't necessarily the driving force in the currency markets (particularly for GBP). Clearly sterling has been under intense pressure against the dollar in recent weeks (falling below $1.20 for the first time since the height of the COVID related market turmoil in March 2020) but I maintain that is more about dollar strength across the board than it is about a weak pound (note EURUSD approaching parity for the first time since Q4 2002). For now, the risk aversion theme drags on amid concerns surrounding a global recession, rising COVID cases and the ongoing war in Ukraine.
GBPUSD (Red) and EURUSD (Blue) – Past 20 Years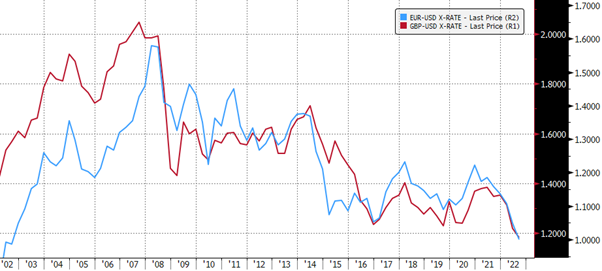 Hopefully it's a case of when things look like they're only going to get worse, it's a sign we're approaching a turning point. That may prove to be the case, but for now, it feels prudent to maintain robust risk management frameworks that have served so many of us well in recent months.
*odds taken on Monday 11.07.22 from Betfair Exchange
Be the first to know
Subscribe to our newsletter to receive exclusive Validus Insights and industry updates.